Tyent Rettin UCE-9000 Turbo Under Sink Water Ionizer
Description
WaterIonizers Say –
"What we've noticed recently, especially now that home countertop Ionizer systems are becoming increasingly popular, is that the actual quality and functionality of the countertop faucet is remarkable. It hasn't simply been tacked on as an option, and the integrated screen allows full functionality without having to venture into the cupboard under your sink."
Product Video
Video courtesy of Tyent USA, Waterionizers.co.uk the official UK retailer for Tyent.
Key Features
9 large Platinum Plates

Dual Ultra Filtration - 99.9% Removal of Impurities from Water

Designed for High End Kitchens

UL Listed For Safety - Top Rated Water Ionizer for Safety

Hydrogen Boost Technology - The UCE-9000 has increased amperage with its hydrogen boost technology to get the BEST levels of antioxidants!

ORP Levels: Up to negative -840*

pH Levels: 2.4-11.4*

pH Settings - 3 Alkaline, 3 Acidic, 1 Turbo (for both alkaline and acidic output) 1 Neutral. Fully adjustable with 55 adjustable levels.
Fancy Faucet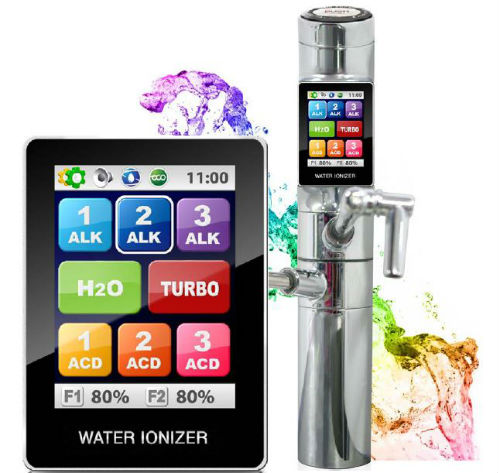 The main attraction of this model is that is comes with a very useful and well-built chrome faucet. The defining feature being that there is a full colour touch screen panel on the top the of the tap, from which all features of the Ionizer can be controlled. The user can chose and set the strength of Alkaline or Acidic water they would like. A TURBO setting which increases the amperage within the device to provide Hydrogenated water with no delay. And finally an real time display of how much life your filters have left (individually). There is also support for 6 international languages.
Jog Dial and Touch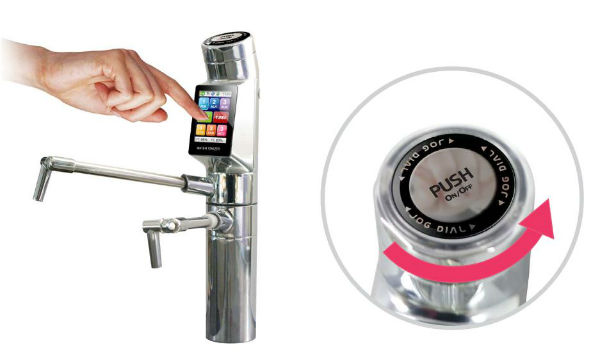 Use the UCE - 9000 Turbo the way you want by either twisting the jog dial or the one touch system making it more convenient for you.
Plated efficiency
As you may have already read the Tyent 900 has 9 Platinum coated plates, using as much surface area as possible, all packed into one neat box. The reason for these large plates is to give the water passing over them more time to undergo the molecular restructuring that is necessary to make them into much more useful and healthy Hydrogenated water molecules. This allows the UCE-900 to achieve a pH range of 2.4-11.4 and a negative ORP of up to -840.

Dual Water Filtration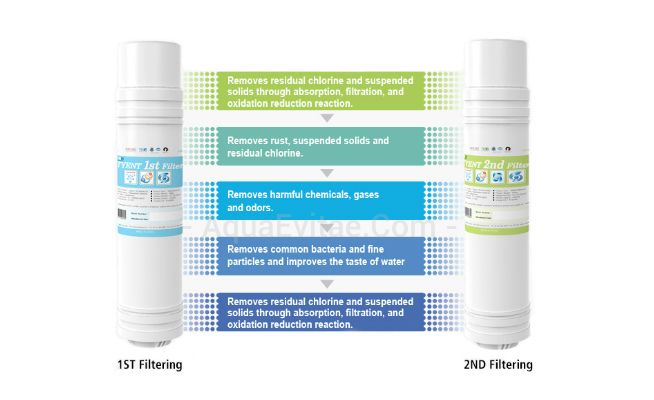 The Tyent Rettin UCE-9000 Turbo is a dual filtration water ionizer and uses a double Membrane 0.01 Micron Active Carbon /EM Ceramics Filter combined with a 10 Stage Ultrafilter (UF) Membrane Filter.
The primary double Membrane Active Carbon/ EM Ceramics Filter is highly refined (0.01 micron) and is NSF-42 approved and removes heavy metals, asbestos, bacteria, pesticides and pharmaceutical residues without filtering important minerals such as calcium or magnesium. Active carbon also removes undesired odorous or flavouring substances and neutralizes chlorine which is often added by the waterworks as a disinfectant.
The secondary filter used in the Tyent Rettin UCE-9000 Turbo is the UF Membrane filter . The 10 step Ultra-Filtration membrane features tiny micro-pores of 0.01um which the water is forced through, the pores of the UF membranes are so tiny that bacteria and viruses are unable to pass through. This filter also removes any remnant chlorine and organic/inorganic compounds using the activation - absorption method generating perfectly clean water for consumption.
Inbuilt Safety
As well as offering a plethora of features and functionality, the UCE-9000 also looks after itself and its user. Whenever it operates for 15 minutes or more continuously it will auto shut off the flow of water, just in case it has been left on and unattended by mistake. If the tap is in a family area where children may have access to it, there is an inbuilt temperature control sensor that does not allow water outside the range of 4°C - 35°C to leave the tap. The plates within the system also employ a self cleaning technology ensuring that they work with maximum efficiency over a long period of time. This technology also helps prevent or drastically reduce (depending on individual water source quality) the build up of scale within the machine itself, meaning that no separate cleaning fluids or procedures need to take place, unlike other models on the market. Within the software that monitors and supports the taps operation there is also an in built diagnostic engine that can self-diagnose and then warn the user through both audio and visual ques on the display screen of any internal issues within the system and how to rectify them
Ease of use
The Tyent UCE-9000 system also includes other mechanics that aid the user and ease the stress of maintenance, which further demonstrate why the Tyent UCE-9000 is the favoured option on the market. To start with, the time and effort it takes to change a filter is akin changing a lightbulb in your home. Both filters have a simple twist and lock design incorporated into them, leaving the user only one possible way to fit them, another handy feature is that the system does not need to be drained before removing an old filter or flushed through once a new filter is fitted, unlike some of the other systems available on the market, (please remember to only use genuine Tyent filters when sourcing replacements). Although the UCE-9000 is a powered system, the inbuilt ECU controls the current and amperage through the machine, ensuring that it is not running at full power every time you use it as this could see your electricity bill soar. In line with this power monitoring there is also a flow guard which shuts off after 15 minutes of continuous use, thus helping to ensure the responsible use of water.
Technical Specifications
Full digital touch screen operation and control

Voice output in English, German, Spanish, French and Italian

Additional "JOG DIAL" control

Self-cleaning function with acoustic alert

2 stage filter-system which employs both active-carbon & EM ceramics filter with UF membrane filter

CE-compliant and ISO 9001:2008 registered

2 years domestic warranty

Wattage: 150W

Weight: Faucet - 0.5 kg, Under sink unit - 6.9 kg

Measurements CM (HxWxD): Faucet - 32 x 8 x 8, Under sink Unit: 36 x 35.5 x 13.5

Water pressure: 1 - 5 bar

Flow rate: Average 2 litre / min.

Filter life: 3,600 litres / or 9 months