There are some misconceptions about Kangen and Alkaviva water ionizers that we would like to clear up in this blog post. We want all our customers to be happy with the products they receive and we believe in selling high-quality products for the best price. With that being said we want to clear up some misconceptions about our Alkaviva water ionizers vs Kangen water ionizers.
We have tested the latest Alkaviva H2 models against the leading models from Kangen and Life Ionizers to try and show that paying a higher price doesn't necessarily mean a better product. The results below will give you a more in-depth breakdown of what each product has to offer.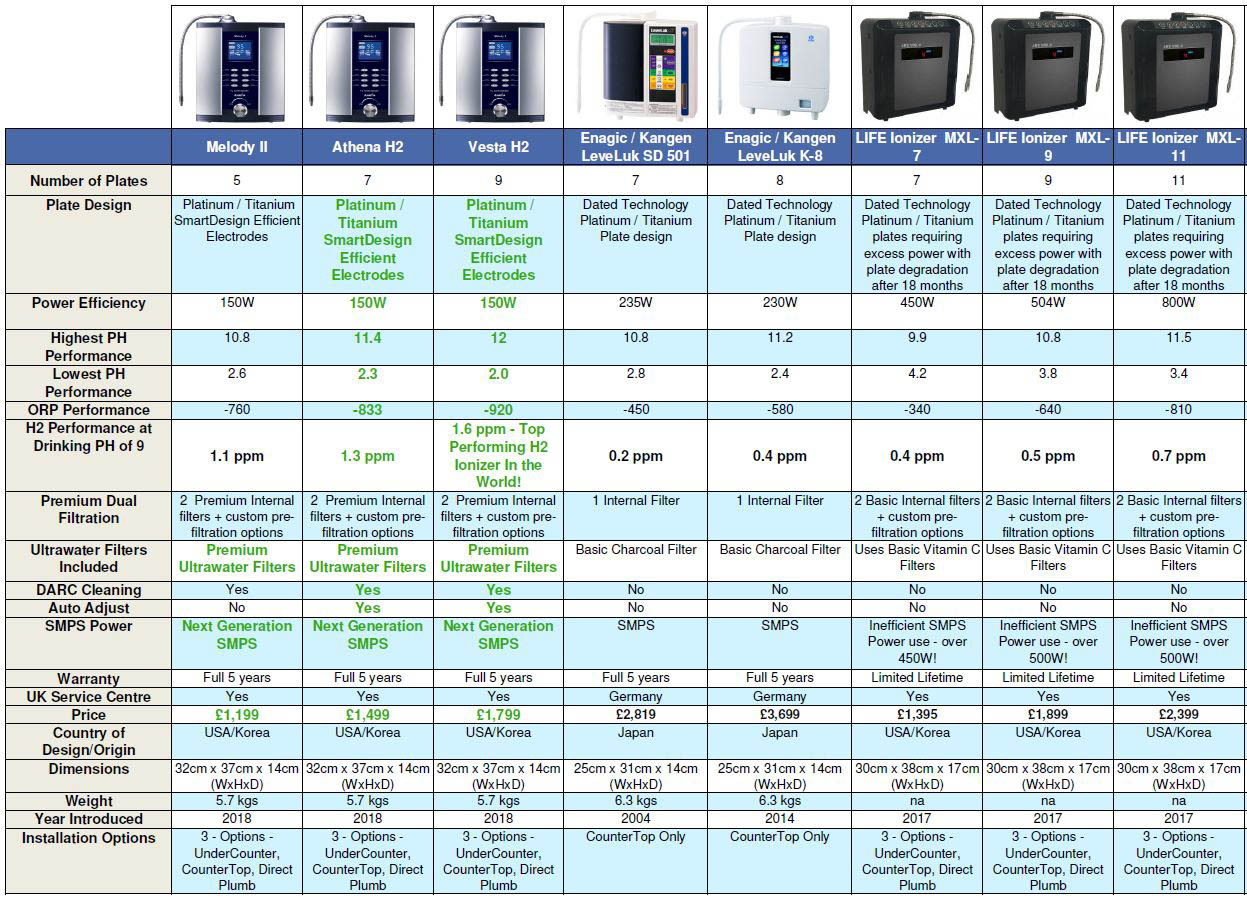 From the results, we can see that the latest Alkaviva H2 water ionizers outperform the other competitor brands in the key performance metrics including, pH, ORP and H2.
In all the above areas the Alkaviva Vesta H2 outperforms the Enagic Kangen k8 and Leveluk machines. The Vesta H2 can produce a -ORP of -920 and H2 readings of 1.6ppm at the recommended drinking water range of 9.5pH, no other ionizer on the market comes close to this antioxidant performance. When choosing a water ionizer the pH, ORP and H2 should be carefully looked at to ensure you're getting what you paid for.
Alkaline water with high molecular hydrogen levels has been shown to benefit 160 health conditions, as well as benefiting the whole body. However, Alkaline water with low H2 levels has little to no benefits, so finding an ionizer with a high H2 metric is crucial.
Kangen water ionizers are very well known for being the best water ionizers money can buy and we get a lot of our customers enquiring about these products. However, these items are so expensive. One of the main reasons why Kangen water products are so expensive is due to the multi-level pyramid sales system. On average 6-8 people will be involved in your purchase, taking a pay cut of the price you pay for the machine, as a result, the price of their machines are doubled. Other Ionizers brands such as Alkaviva are traditional companies that work directly with distributors and retailers, so when you buy from us you are buying from Alkaviva's official UK and Master EU distributor, there are no middlemen inflating the price.
In terms of water filtration, Alkaviva Ultrawater filters have been designed with a 13-stage dual water filtration technology that removes 99.9% of contaminants down to non-detectable levels including chloramine, pharma, fluoride, heavy metals and resilient contaminants like chromium VI and arsenic.
The Secondary Filter contains eight stages of protection highlighted by CaSO3 to reduce heavy metals and different forms of chlorine, multiple layers of non-woven fibre technology and two stages of the highest quality carbon.
No other ionizers on the market have filters that are as good as the Alkaviva filters, Kangen models, for example, use a single charcoal filter that only removes basic impurities (similar to a Brita water jug) and will not remove chlorine, fluoride or heavy metals from the water. This will be an additional price if you wish to have better filtration with your Kangen model. Other brands use cheap carbon and vitamin C filters that do a poor job of removing many common impurities.
Installation of the Alkaviva machines is very easy and does not require a plumber to install them. You will be able to set the machine up and connect to your water supply in less than 15 mins and we are available to help anytime.
With 30 years of manufacturing experience and knowledge, Alkaviva has created the H2 water ionizers which use the latest technology for efficiency and durability, ensuring a long plate life and machine life.
Current machines from brands such as Life ionizers use outdated technology. This technology uses larger plates to make the machine perform adequately. Because of the size of these plates, they are more likely to degrade quicker and require larger amounts of electrical power to operate.